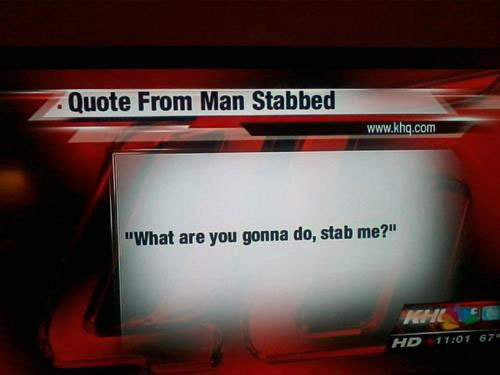 This has to be the most hilarious one-liner in the history of people who type things on the news screen. The good news is that  the victim did survived, and hopefully he has made a full recovery, and learned his lesson about using sarcasm in a knife fight.
The actual headline wasn't anything unusual "Man Stabbed in the Throat in East Spokane." That's not funny, it's really terrible, but then, out of all the possible quotes the news could have used, why did they go with the most hilarious possible line in the history of news stories?? The guy in charge the research at the local TV station delved into the depressing details of a knife attack, and he came back up with the worst possible reaction. You know he wrote it that way on purpose. There are a million ways to phrase the events that transpired that aren't funny in the slightest — "The victim did not believe the threat was real and questioned his attacker's intent" — and only one way to phrase it that is funny:
QUOTE FROM MAN STABBED: "WHAT ARE YOU GONNA DO, STAB ME?"
I truly hope that as soon as he finished typing that headline, he walked out of that local station and went on to write for SNL or something.
Also, let's not overlook the real hero here: the victim. Sure, it's stupid in retrospect, but bravo to the man who saw an assailant wielding a deadly weapon and had the balls to dare him to use it. I mean, when a guy comes at you with a knife and you essentially say "bring it" what choice does that guy have? What exits have you left him? Maybe he wasn't going to stab you before, but he pretty much has to now.
Comments
comments