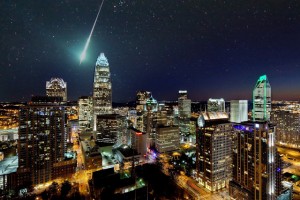 There's one thing that could ruin tonight's Camelopardalid meteor shower.
Light pollution.
The unfortunate fact for Charlotteans is the East Coast of the United States is an extremely urbanized region. Even when you think you're in the middle of nowhere, the light from nearby cities can obliterate any plans you have for meteor watching.
So we did some searching and found this handy website. It provides an overview of light pollution intensity in the United States, and helpfully provides viewing locations for aspiring stargazers. And we're in luck! Charlotte has several likely locations to take in tonight's show.
 The Good Night Observatory: Located just an hour and a half from center city Charlotte, just south of Pageland, the observatory is your closest best bet for prime meteor-viewing real estate. However, the observatory is also located on private property so you better call first.
The Brown Mountain Overlook: Just over 2 hours from Charlotte, the overlook is between mile marker 20 and 21 on highway 181. It's public property so it's completely free and open to anyone who cares to park and take a gander. Also, you might just witness the mysterious Brown Mountain Lights while you're there!
The Appalachian State Dark Sky Observatory: A little less than 2.5 hours from center city Charlotte, ASU's observatory is just east of Boone and is open to the public (ticketing necessary. Check the website for details).
Site 2601: 2 hours from Charlotte and just south of White Pines, you're in the heart of the Blue Ridge Mountains at this point. There's very little information available about Site 2601. Common wisdom would be to enter at your own risk. The Blue Ridge Soap Shed is right down the street though!
Comments
comments