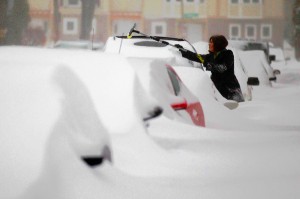 Milwaukee set a one day snowfall record yesterday, reporting an astounding 10.4 inches in one day. The previous record of 9 inches was set back in 1915.
The total for this weekend's snowstorm, starting on Saturday, and ending early Monday was 12 inches on the nose.
The large snow dump this weekend was partially a result of lake effect snow, which falls when cold air moves across the warm waters of Lake Michigan.
"This was a low-pressure system that moved from the southwest U.S. and tracked across Illinois. The system was drawing a lot of moisture from the Gulf, which is why it had that much snow." remarked Sarah Marquardt from the National Weather Service.
Despite the huge snow dump this weekend, Milwaukee is still slightly behind average for snowfall from Dec. 1 through Feb. 1. The normal is 25.7 inches, but we've only had 24.1 inches so far this season. Last year, over 41 inches fell during the same time period.
(Source: National Weather Service)
Please share by clicking here;
[facebook][tweet][digg][stumble][Google]
[one_third] [/one_third] [one_third] [/one_third] [one_third_last] [/one_third_last]
Comments
comments