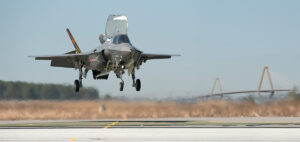 An $80 million F-35B Lighting II jet vanished after the pilot faced an aerial 'mishap' and forced ejection yesterday afternoon, prompting a rapid ejection. The pilot is now being treated at a local Charleston hospital.
The jet flew out of the Marine Fighter Attack Training Squadron (VMFAT) 501 under the 2nd Marine Aircraft Wing, and was operating out of Marine Corps Air Station Beaufort at the time of the incident, according to JB Charleston Public Affairs.
Based on the jet's last-known position and in coordination with the FAA, we are focusing our attention north of JB Charleston, around Lake Moultrie and Lake Marion.

— Joint Base Charleston (@TeamCharleston) September 17, 2023
Presently, Joint Base Charleston, in collaboration with the Marine Corps and the Federal Aviation Administration, is spearheading the search for the missing aircraft. Early reports suggest the search is centered north of the base, particularly around the scenic Lake Moultrie and Lake Marion areas.
One of the most sophisticated jets in the world is still missing as officials believe the F-35 was left in a "zombie state" after the pilot was forced to eject.

Here is what we know:

– 2 fighter jets were flying side by side when the incident took place.

– For unknown reasons… pic.twitter.com/jaHHMKcrif

— Collin Rugg (@CollinRugg) September 18, 2023
Anyone with potential leads or valuable information regarding the whereabouts of the F-35 is urged to immediately contact the Base Defense Operations Center at 843-963-3600.
Comments
comments