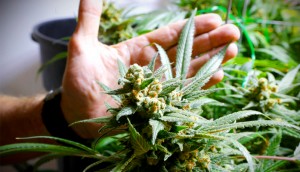 New York's first legal marijuana shop may soon open just outside of Albany if a Washington County man succeeds in securing one of the five newly-approved medical marijuana licenses.
Ted Berndt and Stephen Lulla have already purchased and retrofitted the facility in the Washington County Agri-Business Park. It's now equipped with 24 separate grow rooms and houses and future retail space for customers.
"We're looking for 25-30 jobs here on site, the dispensaries would probably have a similar number. Those would be meaningful jobs in Washington County," Berndt commented in this week's CBS interview.
"Tax revenue is huge up here. Our schools are underfunded, there's a lot of initiatives that go on the shelf because we just don't have the funding," said Lulla.
New York State Lawmakers are still working out a few of the smaller details of the new legislation, which is mostly what's been delaying the licensing process.
In its current form, the legislation only allows patients to obtain vaporized and oil forms of marijuana.
Do you support the legalization of medical marijuana in New York?
[facebook][tweet][digg][stumble][Google]
[one_third] [/one_third] [one_third] [/one_third] [one_third_last] [/one_third_last]
Comments
comments