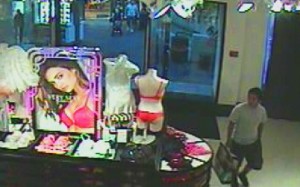 Augusta authorities are now searching for a suspect who stole 85 pairs of underwear from the Augusta Mall's Victoria's Secret. This is one of the largest thefts of women's underwear in Augusta's history, prompting some to refer to this thief as the "Augusta Panty Raider".
All the stolen items have been valued at over $1,300. At this point authorities are still attempting to obtain video footage from the corporate offices of Victoria's Secret
The employee said permission was needed from the corporate office to access video footage.
If you have any information about the Augusta Panty Raider, please call the Richmond County Sheriff's office – 706-821-1000
Please share this article to help notify the rest of Augusta;
[facebook][tweet][digg][stumble][Google]
[one_third] [/one_third] [one_third] [/one_third] [one_third_last] [/one_third_last]
Comments
comments