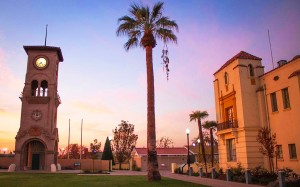 Bakersfield's history Kern County Museum just finished some major renovations and to celebrate their re-opening, they're offering 50% off admission for the next several days.
The buildings throughout the museum are true relics of several different times and places. Some came from old farms in the area, while others once stood on the main streets of towns—such as the Beale Memorial Clock Tower from old Bakersfield. While their original purposes have long since passed, the buildings still spring to life each time a visitor passes through. It's easy to imagine a blacksmith at work at the Calloway Ranch in the late 1800s, or the faithful tellers who saw The Kern Valley Bank through the Great Depression.
A different view of Kern County's history takes center stage inside the museum's other permanent attraction, Black Gold: The Oil Experience. Here, 9,640 square feet of exhibit space reveal how oil forms deep within the earth, as well as methods for its discovery and production. Other displays profile the workers and historical events that ultimately led to Kern County claiming 64% of California's oil production.
Find out more information or purchase your tickets at 50% off by clicking here.
Please share with your friends; 
[facebook][tweet][digg][stumble][Google]
Comments
comments