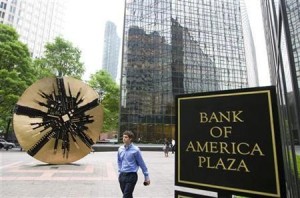 The world's second largest bank just agreed to pay a $7.65 million in because of it's multibillion-dollar miscalculation of capital ratios.
The SEC  has fined Bank of America for breaking securities laws that relate to its record-keeping and internal controls after the bank disclosed in April that it had discovered a $4 billion accounting error. At the time the error derailed BofA's capital plan, including a long-awaited dividend hike and share buyback for investors.
Since 2009, the bank  has been overstating capital levels by "greater and greater amounts". The overstatements increased from $888 million in 2009 to over $3.7 billion last year, according to the SEC.
The bank is likely more upset at the fact that they will have to wait to raise their dividend rates, than the size of the penalty itself.$7.65 million might seem like a lot of money to most people, but it's really just pocket change compared to the size of the fines and settlements BofA has shelled out over the past couple recent years, such as the $16.65 billion accord announced last month with the U.S. government and various states over soured mortgage bonds.
Comments
comments