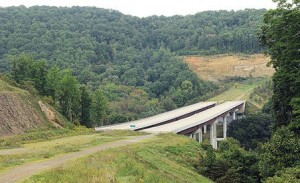 The Christine West Bridge in Bluefield, often referred to as "the bridge to nowhere", is finally moving forward.
The King Coal Highway Authority is now officially putting the bridge into the state's Statewide Transportation Improvement Plan (STIP). One of the main goals of the plan is now to complete the section of the King Coal Highway from the US Route 460 Interchange to WV 123.
This addition to the plan was initially announced during the groundbreaking ceremony for Norfolk Southern Railway's $28 million intermodal center at Pritchard on Wednesday that will bring 116 jobs to Pritchard when the facility opens in December 2015.
This exciting announcement not only helps to pave the way for additional state-directed funding for new roads, it also sends a strong message to the federal government about the state's priorities and commitment to finish projects. Congress is now ready to write a new highway bill, and we are all hoping this will add considerable funds to the future expansion of the King Coal Highway.
Comments
comments