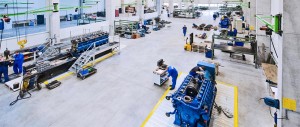 Mint Hill-based AC Controls Co. has just received approval to build a $4.3 million manufacturing site beside Concord Regional Airport. Plans include a 60,000-square-foot facility and an airplane hangar in the Oakmont Business Park.
They will use the building as a main distribution and manufacturing hub for high-tech valve systems. In addition to valve systems, AC Controls makes the various other instrumentation involved with refrigeration units. The company's customers include GE Energy, Duke Energy, DuPont, and a few other regional brands.
The company has 45 employees at its Mint Hill location that will either relocate to Concord or commute to the Westmoreland location, according to Concord officials. AC Controls expects to hire 15 employees once the Concord facility is built.
The city of Concord will allow AC Controls to avoid 85 percent of the city's property tax burden for three years, which totals about $80,000 and leaves the city with $14,000 in net revenue during the grant period.
It will invest about $4.3 million in the Concord facility and $2.2 million in equipment. The value of the hangar access will be considered as part of the incentives.
Do you think this is a wise investment for the city of Concord?
[facebook][tweet][digg][stumble][Google]
Comments
comments