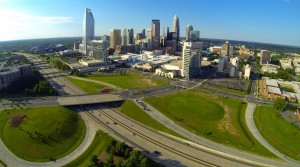 Google has just announced that Google Fiber is coming to 18 cities across four new metro areas: Atlanta, Charlotte, Nashville, and Raleigh-Durham.
Charlotte's plan includes 28 station to be built around the Queen City, with thousands of miles of cable running above and beneath the streets to connect each home with internet speeds 100 times faster than we have now, and for lower monthly payments.
Fiber cables will branch out from 12-foot by 27-foot fiber buildings that would serve about 20,000 homes each. Google will be connecting to houses that asked for it, but only in neighborhoods with high enough demand.
The fastest current broadband speeds offered in Charlotte are about 10 to 20 megabits per second. Google Fiber will deliver 1,000 megabits – or 1 gigabit – per second. This would allow for no-waiting downloads and uploads of movies or other big data files. Downloading 100 photos will take 3 seconds.
A large factor of Google picking Charlotte was due to a local volunteer group called Charlotte Hearts Google, who worked diligently throughout most of 2014 to inform city residents about the potential new broadband infrastructure, to gather support for a fiber network, and to show them what the city stands to gain from it.
Here is Alan Fitzpatrick, the founder of Charlotte Hearts Google speaking at one of their events;
"When we get on the list for Google Fiber, people take notice, it's like, 'Wow, there's something about Charlotte. There's something going on there.' " Alan commented.
What do you think about Google Fiber coming to Charlotte? 
Comments
comments