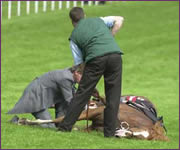 There was no jockey who was ever given a lethal dose of horse tranquilizer. This is another fake story by another "TheOnion.com" want-to-be site, EmpireSports.co…
Empire sports recently claimed that;
"The cheers of fans turned to gasps Saturday afternoon at Churchill downs as an otherwise uneventful race turned tragic after a mid-race collision sent several jockeys flying to the ground and left one jockey dead.
Two jockeys were injured and taken away from Churchill Downs by ambulance after a scary collision during the third race of the Kentucky Derby day slate….
Jockey Megan Fadlovich complained of concussion symptoms, and fellow rider Marcelino Pedroza Jr. complained of lower back pain after the incident, which appeared to start when two horses clipped heels. Both jockeys were alert and moving all extremities as they were taken to nearby Audubon Hospital for further examination, a track spokesman said.
Back at the track, a tragedy unfolded that has left many stunned.
A third jockey who was dismounted in the incident, James Graham, broke his leg so severely that trainers were forced to perform emergency medical procedures on location and accidentally injected him with a lethal dose of the drug barbiturates, a drug that is commonly used to euthanize horses…"
I will say it again, this story is not  true, there was no jockey who was ever given any lethal dose of horse tranquilizer. The medical staff at the horse races aren't smartest people in the world, they're not a complete idiots…
Comments
comments