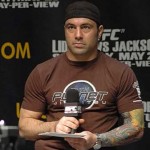 Joe Rogan did absolutely not agree to any UFC fight, and he is still a UFC announcer. This is another fake story by another "TheOnion.com" want-to-be site, EmpireSports.co…
Empire sports recently claimed that;
"According to sources within the UFC, Joe Rogan will be taking center stage in an upcoming UFC bout…"
This Empire Sports story is totally not true, Joe Rogan never agreed to any UFC fight, but he has said he will begin to expand into several other areas including;
[sociallocker]
Stand-up comedy
Rogan has toured as a stand-up comedian and recorded several albums and specials, including Shiny Happy Jihad, Joe Rogan: Talking Monkeys in Space, and Joe Rogan Live from the Tabernacle.
In 2007, Rogan confronted comedian Carlos Mencia on stage, accusing him of joke thievery. A video of the incident included evidence and supporting comments from other comedians, including George Lopez, Reverend Bob Levy, Bobby Lee and Ari Shaffir.
Hosting
Rogan worked on the TV series Fear Factor, as a host of the United States version of the show. He hosted from June 11, 2001 through September 12, 2006. Rogan returned as the host of Fear Factor in the rebooted edition of the show, which aired December 12, 2011 through July 16, 2012 on NBC.
In 2003, Rogan and Doug Stanhope replaced Jimmy Kimmel and Adam Carolla as co-hosts of The Man Show. They continued through the end of the show's run in 2004.
In December 2009, Rogan began hosting a regular podcast with concurrent live Ustream availability. The podcast features an array of guests from the pursuits of comedy, science, social activism and Mixed Martial Arts. Now known as The Joe Rogan Experience, the show is regularly found in the Apple iTunes top 10 overall, was named one of iTunes' "Best of 2010" audio podcasts in its first year, and won an award for being one of iTunes' top three comedy podcasts in 2012.
[/sociallocker]
Comments
comments