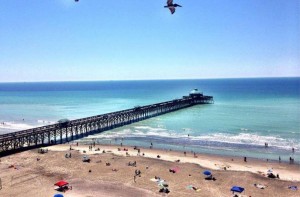 The water at most beaches between Savannah to Charleston is beginning to look more and more like paradise. It is beginning to turn a beautiful hue of crystal blue, many locals have started to compare it to the waters in the Bahamas.
Some people think that it's due to recent dredging.
There have been all kinds of speculations as to what was causing the blueness, even oceanographers thought Wednesday's rain was going to get Folly's usual greenish-brownish waters to return.
Most of them, however, were way off.
The water is mostly likely changing this tropical blue color due to calcium carbonate precipitating from to Folly's renourishment project. When Calcium carbonate (lime) collects in significant amounts, it reflects the water's natural blue color back to the surface.
The US Army Corps of Engineers discusses the "Folly Beach Renourishment" project, on their website:
"…currently working on a beach renourishment project to help provide protection against storm damage to people and property on Folly Beach. 1.5 million cubic yards of sand will be placed along the coast. 5.34 miles of beach will be renourished. A $30.7 million contract (with 15 percent cost-share from City of Folly Beach) was awarded to Great Lakes Dredge and Dock Company, LLC, of Oakbrook, Ill. The beach renourishment is being conducted as part of a 50 year agreement with the City of Folly Beach, and is the first periodic renourishment since 2005."
The businesses currently along Folly Beach and other beaches between Charleston and Savannah are hoping the incredible blue waters will attract more visitors.
Comments
comments