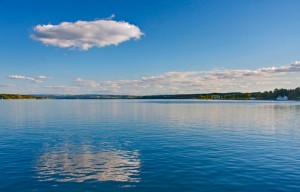 After months of negotiations, Syracuse's new 'Onondaga Lake Lounge' project is about to launch.
New York State is still taking input from the public and would be willing to make last minute changes to the design if they hear consistent thoughts.
The current plans for the lake lounge include a tiered 1,350-square-foot wooden deck with stadium-like seating to give residents and visitors stunning views of the lake and Onondaga Creek.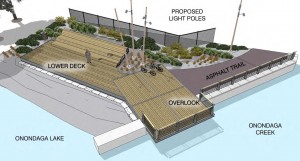 Syracuse has already received $720,000 from New York State for it's development and construction.
The city recently finished extending the creekwalk from the Syracuse Inner Harbor to Onondaga Lake, which opened the former industrial area along the lake's southern shore to the public for the first time in over 100 years.
This project will be one of many that the city hopes to undertake in the future to clean up Onodaga Lake and make it one of the most spectacular lakes in New York.
What do you think about the plans?
[facebook][tweet][digg][stumble][Google]
[one_third] [/one_third] [one_third] [/one_third] [one_third_last] [/one_third_last]
Comments
comments