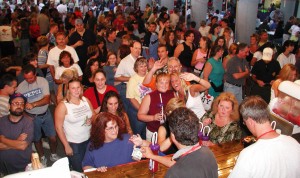 The 2015 Taste of Syracuse is almost here! This year they are planning the largest gathering of restaurants in the history of our city.
This coming weekend will be filled with food, games, and music (including Bret Michaels and Under the Gun) around the whole Clinton Square area.
Here are the 10 most anticipated items that will be sold for $10 at the festival.
| | |
| --- | --- |
| Business  | Food item |
| A La Mode Café & Catering | Gourmet Hot & Cold Pinwheels |
| American Culinary Federation, Syracuse Chapter | Maple-Bacon Ice Cream, Chef Snack Mix |
| Angelo's Italian Eatery | 2 Garlic Knots |
| Anthony's 19th Hole | Fresh Cut Curly Fries |
| Appethaizing | Shrimp wrap |
| Arby's | Buffalo chicken sandwich |
| Asti Caffe | Calamari Christiano |
| Café Kubal | Cookies, Iced Tea and Hot Coffee |
| Cam's | Pepperoni Stromboli |
| Carvel Dewitt | Vanilla or Chocolate Soft Ice Cream |
| Cheese Filled Company | Original Sharp Cheddar |
| Chicken Bandit | "Bandit Seasoned" Chicken Wing |
| Deborah's Sweet Treats | Apple Bread, Cookie, PB Cup Cupcake |
| Dinosaur Bar B Que | BBQ Beans |
| Dominicks Restaurant | Chicken Riggies |
| Edible Arrangements | Fresh Chocolate Dipped Fruit |
| Gwen's Grill/Ruby's Soul Food | BBQ Chicken/Collard Greens |
| Heid's of Liverpool | Hoffmann Frank/Coney |
| HenHouse | Jerk Chicken Kabob |
| Jamerican Diner | Jerk Chicken Leg |
| Ma & Pa's Kettle Corn | Kettle Corn and Carmel Corn |
| Mami's Kitchen, LLC | Mini Beef or Cheese Emnanados |
| Margaritaville | Volcano Nachos |
| Military Moms | 5 Cheese Mac & Cheese w/ carmelized onions |
| Natural Vibes Juice Bar | BBQ Pull Pork |
| New York Almond Co. | Frozen Chocolate Banana |
| Notch 8 Café | Gelato Pop |
| Perry's Ice Cream | Sample Custard Cone |
| Pizza Hut/Wing Street | 2 Boneless Wings or Chicken Alfredo Pasta |
| Prime Steak House | Prime's Shrimp |
| The Mission | Queso and Chips |
| Tony's | Fried Meatball |
| TOPS | Hinerwadel Salt Potatoes |
| Toss n Fire Wood-Fired Pizza | Cuse salt Potato Pizza |
| Turkish Cultural Center | Stuffed Grape Leaves |
| Twin Trees Too! | Garlic/Tomato Pie Slices |
| Vince's Gourmet Imports | Arancini (Fried Risotto w/Basil Pesto & Mozz) |
| Wings Over Syracuse | Boneless Wing |
| Wood's Vermont Syrup Company | Maple Candy |
| Zebbs | Double Chocolate Brownie |
Please share;
[facebook][tweet][digg][stumble][Google]
[one_third] [/one_third] [one_third] [/one_third] [one_third_last] [/one_third_last]
Comments
comments