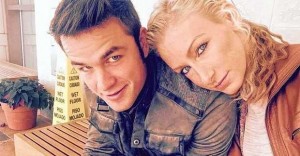 This might sound like a lifetime movie, but it's surprisingly true.
Crystal DiGregorio is a former Oswego porn star. Dave Bassette is a small town pastor just north of Syracuse in the suburb of Fulton.
Crystal (now 30 years old) made her last film in this past June, and two months later, Dave and Crystal started dating.
When she walked into the Oswego River of Life Church (pastored byBassette's father), Dave noticed her immediately, but she was much more hesitant of dating him. At only 23 years old, she initially thought he was too young for her.
Crystal's sister had been friends with Dave for years and thought the two of them would look good together, so she just invited them both to a card game without telling the other.
The chemistry was instant. They started dating immediately. And she started attending his church just north of Syracuse: Pentecostals of Fulton.
Crystal had already left the porn industry and quit drinking before they met. She had experienced a truly life-changing moment when she crashed her car while driving drunk in March. A friend was supposed to drive, but was too drunk, so Crystal took the wheel. The accident resulted in a broken her nose and several smaller bruises.
The most important thing that stuck with Crystal was that Dave truly loved her kids. She has two sons, 5 and 14.
Dave thinks their love is a little like Shakepeare's Romeo and Juliet. Some of her friends don't like him because they think she's being brainwashed. Some of his friends don't like her because of her past.
Neither of them care.
They're now planning on getting married where they first met at his father's church in Oswego.
[facebook][tweet][digg][stumble][Google]
[one_third] [/one_third] [one_third] [/one_third] [one_third_last] [/one_third_last]
Comments
comments