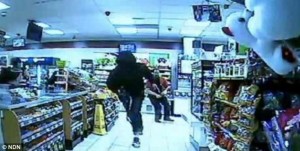 A local Syracuse 7-Eleven cashier just had the most embarrassing night of his life. At about 4am, a 15-year-old entered the 7-Eleven store on Valley Drive pointing what looked like a handgun and demanding cash.
The frightened cashier turned over all the cash, Syracuse Detective George Hack recently commented in a press release. Police weren't able to confirm exactly how much cash was stolen.
The teen fled the store as officers Henry Hilton, Alvin Herrington and William Coleman were dispatched to the area, Hack said.
When the police arrived on the scene, they noticed a younger male matched the description of the suspect. The officers recovered a black BB gun from the suspect, which they believe was the weapon used in the robbery.
The teen, whose name was not released due to his age, was charged with felony second-degree robbery
Police are now asking for anyone with information with more information to call 315-442-5222
Please share and help spread the word;
[facebook][tweet][digg][stumble][Google]
[one_third] [/one_third] [one_third] [/one_third] [one_third_last] [/one_third_last]
Comments
comments