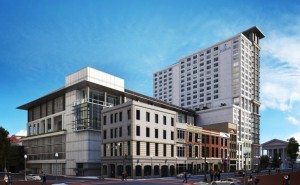 Construction on the new Hilton Hotel and Convention Center in downtown Norfolk is about to begin next month, and it will forever change Norfolk's skyline and downtown area. The 23 story complex will cost a total of $153 million, including $89 million from the city of Norfolk, and $64 million from private investments.
It will be built on an empty lot located at Granby and Main streets, and will include 300 luxury hotel rooms and 50,000 square feet of conference space. The construction of the complex is expected to bring roughly 500 jobs to the area, and nearly 300 jobs will be hired long-term at the hotel and convention center.
The hotel will be as tall as Norfolk's Dominion Tower and will house at least three restaurants, as well as some shops and additional retails space.
Although some city officials are concerned that the new high-rise will forever alter the historic district that it's being built in, most agree that this will improve the city in the long run.
The City of Norfolk's 24-hour hotline for any construction questions or concerns is 664-7220
If you are considering selling or buying any real estate, including homes, in the surrounding area, contact Realty For Life
[facebook][tweet][digg][stumble][Google]
Comments
comments