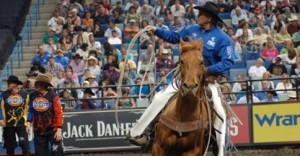 For the first time in over 25 years, a major rodeo was held in New Orleans, which quickly amassed record crowds. This historic rodeo featured championship bull riding, which has never been done in the Crescent City. There was bareback riding, barrel racing and a country music concert. Participants from all over the southeastern U.S. competed for more than $24,000, making it the richest rodeo ever in the state.
Held at the University of New Orleans Lakefront Arena, the rodeo attracted young and old, some wearing cowboy boots and Stetson hats (de rigueur for the cowboys and cowgirls), and the floor of the arena, more used to concerts, was now covered with a sort of clay-like mixture, making it just the right staging area for rodeo.
In addition to special appearances from the world famous All American Cowgirls Chicks and Miss Rodeo America Paige Nicholson, the rodeo also featured an appearance of the New Orleans Mounted Police Department officers on their trusty steeds. The department receives a portion of the event's proceeds (as does the Molly Foundation.) For those who stayed after the rodeo, there was the Big Easy Country Music Concert featuring Mickey Gilley.
There was such a huge turnout and positive response, rodeo executives are already planning for next year's rodeo – you better start practicing on that mechanical bull!
[facebook][tweet][digg][stumble][Google]
[one_third] [/one_third] [one_third] [/one_third] [one_third_last] [/one_third_last]
Comments
comments