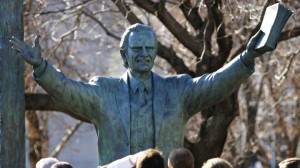 North Carolina has just approved a proposal to build a full-size statue of its favorite son, Rev. Billy Graham, in Washington.
NC house members voted 71-28 for a bill that would ask congress to build Graham's statue inside the U.S. Capitol. Each state gets to contribute two statues, many of which sit within Statuary Hall. Federal law allows states to request changes.
Billy Graham came from a small dairy farm in South Charlotte to become a world renowned evangelist, social reconciler, and unofficial pastor to almost a dozen US presidents.
Graham would replace former Gov. Charles Aycock, whose legacy has grown tarnished in recent discussions of his ties to North Carolina's white supremacy movement more than a century ago. His name has already been removed from several college dorms and a major Democratic Party fundraising event.
Republicans pressed forward with preparations for the Graham statue even though it couldn't be erected until after his death, in keeping with replacement guidelines. The bill would direct a state committee to select a sculptor and obtain project funds.
All the "no" votes came from Democrats, several suggested other historic names such as; Army Gen. William Lee,; UNC coach Dean Smith; or other former governors.
Do you think Billy Graham's statue should be built in Washington?
[facebook][tweet][digg][stumble][Google]
[one_third] [/one_third] [one_third] [/one_third] [one_third_last] [/one_third_last]
Comments
comments