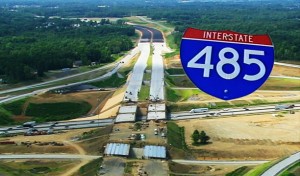 The last piece of I-485 now has an official opening date.
According to NBC Charlotte, the city is planning on having a ceremony on June 5th to officially open the last leg of the most talked about road construction projects in Charlotte's history.
It's been such a major issue in our city that hundreds of Charlotteans have even formed a Facebook group called Open I-485 North Charlotte NOW!!!!!
The opening of the last 5.7 mile piece of highway between NC 115 and I-85 will become a major piece of Charlotte's history. This last piece will be joining the first piece (the connection of I-85 with US 29) of 485 which was completed back in 1967 (although the planning for the entire beltway was not official until 1975).
At almost 50 years in the making, Charlotte's I-485 will go down in the record books as one of the most time consuming highway projects in US history.
Please share;
[facebook][tweet][digg][stumble][Google]
[one_third] [/one_third] [one_third] [/one_third] [one_third_last] [/one_third_last]
Comments
comments