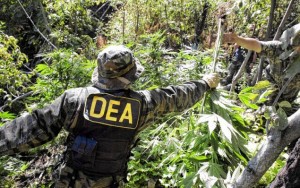 DEA agents and local police agencies around the greater New Orleans area joined forces to seize over 320 large marijuana plants and over 250 lbs of processed marijuana.
Officials stated that the confiscated marijuana has a street value of over $1 million.
On Tuesday morning, Police were tipped off that Megan Crain, 25, had stolen the vehicle and may be headed to the Tangipahoa area. Chiasson also told police that Crain had illegal narcotics in the back seat of the vehicle.
Officers located the stolen vehicle with four people inside, including one juvenile. The passengers of the car have been identified as Dagoberto Rodriguez, 49, and Brent Crain, 30.
They found four rocks of crack-cocaine inside of the vehicle, as well as a crack pipe in Rodriguez's pants. Rodriguez also had four outstanding warrants for his arrest.
Police were then made aware that Megan and Brent Crain lived with Donald Chiasson, the man who reported his vehicle as stolen. Investigators say they received a warrant to search the residence on Jenkins Road in Hammond. Police say several of the individuals involved in the incident were already targets in an ongoing undercover narcotics investigation.
Approximately 15 pounds of processed marijuana was located and seized.
Following an interview with the suspects, detectives became aware of a marijuana grow located on Guy Road in Tangipahoa.
Agents were led to a large field in a wooded area where they found at least 318 massive marijuana plants; an irrigation system set up to supply the plants with water; components of processing and cultivating fertilizer; and three outdoor drying stations containing approximately 250 pounds of processed marijuana.
The DEA officers removed the plants, stating that some were 7-feet tall with a diameter 4-feet in width.
Dagoberto Rodriguez was charged with cultivation of marijuana in Federal Court in the Eastern District of Louisiana.
Megan Crain, Brent Crain and Donald Chiasson were charged with possession with intent to distribute marijuana and cultivation of marijuana in the 21st Judicial District of Louisiana. Brent Crain was also charged with parole violation.
[facebook][tweet][digg][stumble][Google]
[one_third] [/one_third] [one_third] [/one_third] [one_third_last] [/one_third_last]
Comments
comments