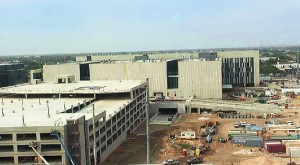 Combined it has over 2.3 million square feet and 446 beds, with hotel like interior decor and fixtures. It's actually a little surprising that it only cost $1.1 billion to build.
The building is overflowing with natural light some of the most advanced medical technology in the world, including over 400 pieces of new equipment. The patient beds can speak dozens of languages. The operating rooms can stream video to classrooms and other departments in real time, and advance interoperative imaging equipment will enable surgeons to view live MRIs during surgeries.
Leaders are now hoping that the extra attention to detail, technology, and spaciousness will help the city overlook all the delays and problems the project has faced over the past 8 years of planning and development.
Check out more pictures on Nola.com
You can now browse all job openings around New Orleans here.
Please share;
[facebook][tweet][digg][stumble][Google]
[one_third] [/one_third] [one_third] [/one_third] [one_third_last] [/one_third_last]
Comments
comments