For most people, going to a bar on St. Patrick's Day means green beer and Irish music.
For for this group of people, however, it was just another Tuesday night of worshiping Jesus;
The group calls themselves "Unite 2 Ignite", and they intentionally meet in public places during the week and on Saturdays to share their faith with the city and encourage all churches in Charlotte to become more united.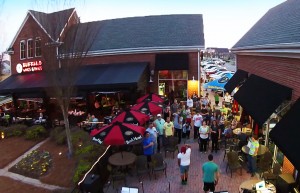 On their website they state, "Our purpose is to 'Bring Unity to the Community' by establishing relationships with local people, families, businesses, church's, schools, and radio stations. Our aim is to be a place where people can feel loved, accepted and valued by one another."
They're not the only group working to bring unity to Christians in Charlotte. Over the past 5 years, organizations like Charlotte One, Shake The City, United Prayer, and Charlotte Awake have been seeing incredible growth through connecting churches from almost every denomination, style, and background.
The greater Charlotte region now has over 1,200 Christian churches that are more united than ever.
[facebook][tweet][digg][stumble][Google]
Comments
comments