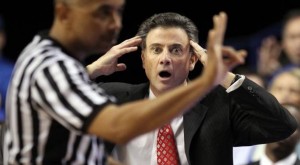 Empire Sports recently published a fake story in which they claimed that Louisville coach Rick Pitino attempted to bribe an NCAA official to call a game "fairly".
"Reports from unnamed source have surfaced that Louisville coach Rick Pitino offered a bribe to a game official prior to their regional semifinal on March 28th. The terms of the alleged deal were that the official would be paid $50,000 to call the game fairly, consistently and in accordance with the rules of basketball. The bribe offer was reportedly declined. Analysts who observed the game determined that the terms of the bribe clearly could not have been carried out," the fake article reads.
Empire Sports has a disclaimer, saying it's satire.
"Empire Sports is a satirical and entertainment website," it reads. "Empire Sports uses invented names in all its stories, except in cases when public figures are being satirized. Any other use of real names is accidental and coincidental."
[one_third] [/one_third] [one_third] [/one_third] [one_third_last] [/one_third_last]
Comments
comments