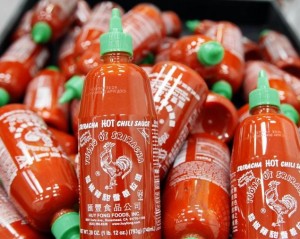 Huy Fong Foods, started in the 1980s, is now one of the fastest-growing food producers in America. The company sold 20 million bottles of Sriracha hot sauce last year.
Most of Sriracha's success is simply a matter of taste — lots of people really like it. It's also different from many other hot sauces, and it never goes bad, which appeals to restaurateurs. Sriracha has received many accolades over the years, from being named Bon Appetit's Ingredient of the Year in 2010 to being celebrated in acomic by The Oatmeal. It also has a truly insane range of novelty and fan products out there. Sriracha isn't just a food that people like a lot. It's a product that people are seriously obsessed with. You can buy everything from Sriracha water bottles to Sriracha lollipops.
Despite all the wild success, Huy Fong Foods has been having major problems with those living around their production facilities recently. Back in October, the city of Irwindale filed a lawsuit against Huy Fong, saying the smell of peppers being crushed at the plant was causing headaches and irritating the eyes and throats of nearby residents, and that it was forcing some to remain indoors.
A Los Angeles Superior Court judge ordered the hot sauce maker in November to curb noxious emissions but stopped short of requiring a plant shutdown as sought by the city.
The dispute has cast a measure of uncertainty over future production of Huy Fong's red-colored Sriracha Hot Chili Sauce, among the top-selling condiments in the United States.
Recently, however, Huy Fong Foods won a major victory, as local city officials held off forcing the closure of the Sriracha hot sauce plant that is being blamed for bad odors and heat that burns eyes.
Irwindale officials want to work with the company to fix the odor and are not ready to force them to do it yet.
"They can kill me, but they can't take out my business," said the owner of the plant, David Tran, who founded Huy Fong Foods, Inc., which produces the spicy sauce.
Many people are still worried that Huy Fong Foods might hault production on the sauce due to the new regulations, causing thousands to flock to Amazon.com to buy Sriracha Sauce in Bulk
Comments
comments