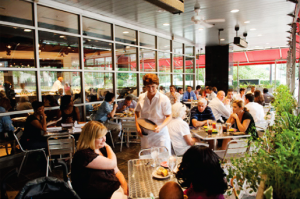 There is one restaurant in uptown Charlotte that continues to be recognized by national organizations for its impact on our community. It was recently chosen as one of the top four restaurants in America for community change.
The King's Kitchen recently received the 2015 Restaurant Neighbor Award from the National Restaurant Association Educational Foundation for its unparalleled community impact. The award was developed in partnership with American Express in order to find and recognize restaurants around America that are making a lasting change in their cities.
The King's Kitchen was also recently featured on the nationally syndicated 700 Club;
In addition to helping our community, The King's Kitchen also makes some of the best southern food in Charlotte. Their chef-inspired menus featuring locally grown foods and ingredients from around the Carolinas, and their owner, Jim Noble (also the owner of Roosters), is considered by many to be one of the best chefs in Charlotte.
They are now open for breakfast, lunch, and dinner Monday-Saturday – check out their menu here.
Please share; 
[facebook][tweet][digg][stumble][Google]
[one_third] [/one_third] [one_third] [/one_third] [one_third_last] [/one_third_last]
Comments
comments