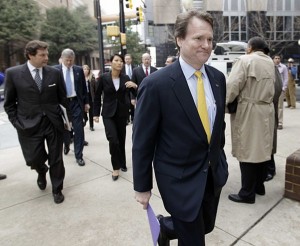 Most CEOs of large public companies earn hundreds of thousands a year in salary, but once you account for the options and restricted shares included in their pay packages, their total compensation often reaches in the millions.
Charlotte is our nation's second-largest financial hub, and the big banks tend to pay their top executives lavishly, but what might be surprising, is that only a few of our region's highest-paid CEOs are bank executives. In addition to being the home to several global banks, Charlotte is also home to many leading retail, industrial, and energy corporations.
Here are the top 21 Greater Charlotte's highest paid public company executives, ranked by total compensation. 
The following list only includes the income coming from one source, many executives consult or manage several companies or occupy multiple roles — take, for example, local motorsports mogul Bruton Smith, who made over $4 million in 2013 as CEO of car-dealer group Sonic Automotive, but he is also CEO of racetrack operator Speedway Motorsports Inc., which paid him an additional $1.8 million last year.
| | First name | Last name | Company | Title | Total Comp | Salary |
| --- | --- | --- | --- | --- | --- | --- |
| 1 | Robert | Niblock | Lowe's (NYSE:LOW) | Chairman/CEO | $18,714,193 | $1,220,000 |
| 2 | Thomas | Montag | Bank of America (NYSE:BAC) | Co-COO | $15,066,301 | $987,500 |
| 3 | Brian | Moynihan | Bank of America (NYSE:BAC) | CEO | $13,139,357 | $1,454,167 |
| 4 | Bruce | Thompson | Bank of America (NYSE:BAC) | CFO | $11,523,146 | $850,000 |
| 5 | Avi | Reichental | 3D Systems (NYSE:DDD) | President/CEO | $10,898,483 | $791,982 |
| 6 | Jim | Rogers | Duke Energy (NYSE:DUK) | Former CEO | $9,555,216 | $0 |
| 7 | Chris | Kearney | SPX Corp. (NYSE:SPW) | President/CEO | $8,433,283 | $1,147,615 |
| 8 | John | Ferriola | Nucor Corp. (NYSE:NUE) | CEO | $8,139,044 | $900,000 |
| 9 | David | Roberts | Carlisle Co. (NYSE:CSL) | CEO | $7,042,678 | $1,210,000 |
| 10 | Lynn | Good | Duke Energy (NYSE:DUK) | President/CEO | $6,385,185 | $919,167 |
| 11 | Tim | Belk | Belk, Inc. (BB:BLKIB) | CEO | $5,689,930 | $1,067,045 |
| 12 | Howard | Levine | Family Dollar. (NYSE:FDO) | CEO | $5,452,577 | $1,115,046 |
| 13 | Frank | Harrison III | Coca-Cola Bottling (COKE) | CEO | $5,268,600 | $903,716 |
| 14 | James | Ferland | Babcock & Wilcox (BWC) | CEO | $5,267,672 | $893,750 |
| 15 | Bruton | Smith | Sonic Auto. (NYSE:SAH) | CEO | $4,399,988 | $1,161,333 |
| 16 | Stephen | Macadam | Enpro (NYSE:NPO) | CEO | $4,164,658 | $825,000 |
| 17 | Robert | Toth | Polypore. (NYSE:PPO) | CEO | $4,107,291 | $760,000 |
| 18 | David | Adams | Curtiss Wright. (NYSE:CW) | CEO | $3,671,946 | $690,154 |
| 19 | Thomas | Dickson | Harris Teeter. (NYSE:HTSI) | CEO | $3,518,541 | $750,000 |
| 20 | Tom | Skains | Piedmont Gas. (NYSE:PNY) | CEO | $3,026,703 | $842,519 |
| 21 | John | Cato | Cato Corp. (NYSE:CATO) | CEO | $2,915,761 | $1,119,402 |
[facebook][tweet][digg][stumble][Google]
[one_third] [/one_third] [one_third] [/one_third] [one_third_last] [/one_third_last]
Comments
comments