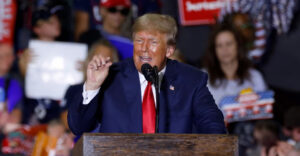 Former President Trump is coming to the Charleston area today to hold a campaign rally for the upcoming GOP primary in our state.
The event will take place at a boatyard in Summerville this afternoon starting at 3 pm – located at 113 Sportsman Way, Summerville, SC.
Tickets to the rally are free, but the Trump campaign is asking that people register in advance on his website here.
It's unclear if Trump will make additional stops in the area, but his decision to hold his first South Carolina MAGA rally in the Charleston area, where GOP primary challengers Nikki Haley and Senator Tim Scott are based, is clearly intentional.
South Carolina holds crucial importance for presidential candidates, and Trump leads in polling with 46 percent support, followed by Nikki Haley at 18 percent and Tim Scott at 10 percent, according to a recent Washington Post-Monmouth University poll.
What do you think about today's rally?
Comments
comments