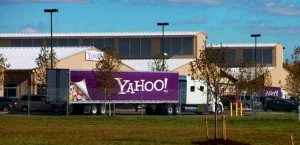 Yahoo has just started moving over 100 workers to the new Lockport industrial park facility.
A full dedication and grand opening ceremony is expected to be held sometime in April for the second phase of the Yahoo campus, which will include five computer pods from the first phase, as well as a computer building, and the call center (which was just completed this month).
Yahoo recently purchased an additional 20 acres to build the call center, bringing it's total campus size to 61 acres in the Lockport industrial park.
Yahoo originally promised to create an additional 115 jobs in Lockport when it received an incentive package for Phase 2 that included an 18-year property tax reduction and a 20-year sales tax exemption on building materials and computer equipment at the new center.
Since Yahoo turns over its computer equipment every few years, the Town of Lockport Industrial Development Agency estimated in December that Yahoo would save $200 million in sales taxes over the next two decades, in addition to the estimated $45 million in savings on property taxes and electricity costs, the latter thanks to a discount provided by the New York Power Authority.
Bowse all available job openings here – Lockport, NY Yahoo Jobs
[facebook][tweet][digg][stumble][Google]
[one_third] [/one_third] [one_third] [/one_third] [one_third_last] [/one_third_last]
Comments
comments