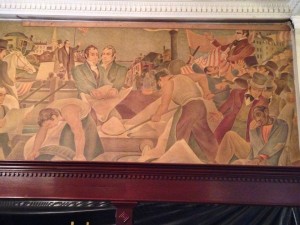 The historic Hotel Syracuse just began the largest renovation since it's construction. The $57 million renovation will completely gut the inside of the building, and give the outside a fresh new facelift.
When workers began to prepare the hotel's lobby for the first step of renovations, they stumbled upon something truly incredible. Hidden securely behind the mirrors in the lobby was a 40-foot mural depicting the beginnings of Syracuse.
The sprawling mural showing very detailed parts of Syracuse never before seen was originally painted by Carl Roters 24 years after the hotel opened. It specifically depicts people and events from the discovery of salt springs near the shores of Onondaga Lake to the rescue of the slave named Jerry from a Syracuse jail before the Civil War.
"It's a significant piece of artwork that we want to retain," remarked the Hotel's current owner.
Riley said he plans to leave the mural where it is when the hotel, which closed in 2004, reopens in 2016 after a $57 million renovation.
An original painting of George Washington's 1789 inauguration that once hung above the fireplace in the hotel's lobby has also been found.
The hotel plans on reopening after the renovations are complete in the beginning of 2016.
Please share to support our historic Hotel; 
[facebook][tweet][digg][stumble][Google]
[one_third] [/one_third] [one_third] [/one_third] [one_third_last] [/one_third_last]
Comments
comments