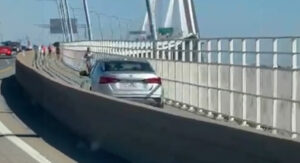 The sight of a car cruising down the pedestrian lane on the Arthur Ravenel Jr. Bridge has sparked discussions among local and state authorities.
Buckles was wrapping up his routine stroll across the bridge when he witnessed police vehicles speeding along East Bay Street on Monday afternoon.
The Charleston Police Department reported that an elderly couple, not from the area, accidentally drove onto the pedestrian pathway while on East Bay Street. After the police located the car, they carefully guided it to the Mount Pleasant side of the bridge.
The Charleston PD sent out a 'friendly reminder' not to drive on pedestrian walkways with cars:
Addressing the 'elephant in the room' — or should we say 'the car on the walkway'? 🐘🚗

As a friendly reminder: The Ravenel Bridge pedestrian path is strictly for foot-traffic and bicycles only! 🚶‍♂️🚴‍♀️ No motorized vehicles, skateboards, in-line skates, or similar gadgets are… pic.twitter.com/SC4vXaQQ9x

— Charleston P.D. (@CharlestonPD) November 7, 2023
Following this incident, the department is engaging with the South Carolina Department of Transportation and the municipal Traffic and Transportation department to consider modifications that could prevent such occurrences in the future.
Authorities issued a citation to the driver, and it was confirmed that the incident resulted in no injuries.
Comments
comments