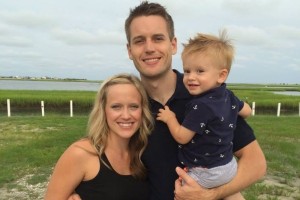 This past weekend the Eddings family, who lead worship at Forest Hill Church, suffered an unthinkable loss.
Gentry Eddings, his wife Hadley, and their son Dobbs were just in a horrific car crash near Wilmington, NC this past Saturday. Gentry and Hadley both sustained minor injuries in the accident, but their precious 2 year old son, Dobbs, was killed on impact.
To make matters even worse, Hadley was eight months pregnant at the time of the crash. Immediately after the accident, she had an emergency C-section and gave birth to their new baby boy who they named Reed. Reed is currently in the hospital in critical condition.
The accident resulted after a commercial box truck crashed into a line of stopped vehicles on N.C. 17, according to WBTV.
After the news began to spread about the accident, several members of their church created a fundraising campaign to ask for prayers and support for the Gentrys and especially for their new baby boy, Reed. According to the GoFundMe page, "All funds donated will be given directly to the family to help with their medical expenses."
People from all over Charlotte have now rallied behind the family. So far over $60,000 has been raised by more than 1,100 people.
Please share to show your support for the Eddings;
[facebook][tweet][digg][stumble][Google]
[one_third] [/one_third] [one_third] [/one_third] [one_third_last] [/one_third_last]
Comments
comments