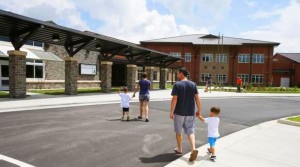 Fort Mill school officials are now trying to borrow more than $226 million to build new facilities, meaning Fort Mill residents will see a noticeable increase in their property taxes. According to the York County Assessor's Office, the average Fort Mill homeowner would pay about $277 more a year in property taxes.
The Fort Mill school district currently estimates its enrollment at about 12,000 students, and are now predicting that it will grow to about 20,000 students by the 2023-2024 school year. In the next 10 years, the district is estimating that it will need almost $400 million in new construction and continued maintenance costs.
The Fort Mill officials want to borrow the extra money to pay for:
A new high school – $118.8 million
A new middle school – $45.6 million
Technology upgrades – $20.5 million
Land for future schools – $13.7 million
A new aquatics center – $9.9 million
A new support center – $6.1 million
Additional High School renovations – $5.7 million
Middle and elementary school renovations – $4.1 million
Transportation – $2 million
You can give your thoughts and feedback directly to the Fort Mill School board members through the
district's website
.
[facebook][tweet][digg][stumble][Google]
Comments
comments