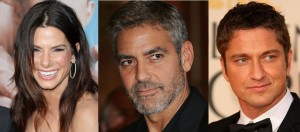 Legendary actors Sandra Bullock, George Clooney, and Gerard Butler are about to come to New Orleans for a series of upcoming movie shoots. Several blockbuster hits have been planned recently in addition to the recently completed "Terminator: Genisys," "Jurassic World", and "Fantastic Four" projects.
Sandra Bullock has commented that she is looking forward to returning to her New Orleans house as she prepares to co-star with Clooney in the Warner Bros. comedy "Our Brand Is Crisis." The film is based on the 2005 documentary about the exporting of American political strategies to South America, to be produced by Clooney and partner Grant Heslov – the same team behind 2012's Oscar-winning "Argo."
The script for "Our Brand Is Crisis" is being written by the writer of "Men Who Stare at Goats", Peter Straughan. Filming is set to begin on Sept. 29.
Gerard Butler is also coming to New Orleans to star in another Warner Bros. project, a sci-fi disaster epic entitled "Geostorm." It is rumored that Butler will play a satellite designer who must head to space to save the world from a fleet of malfunctioning climate-controlling satellites. Geostorm will be the directing debut of Dean Devlin, whose was the screenwriter on "Universal Solider," "Independence Day," and "Godzilla."
Here is a full listing of projects in New Orleans, as well as contact information for prospective crew members (thanks to the state-run Louisiana Entertainment).
Pre-Production:
"Geostorm": Warner Bros feature film Geostorm starring Gerard Butler began pre-production July 7 and is slated to begin filming in October in New Orleans. Please send resumes to [email protected]
"Our Brand Is Crisis": Warner Bros. feature film Our Brand Is Crisis starring Sandra Bullock and George Clooney is filming Sept. 29 in New Orleans. Please send resumes to [email protected]
"Trumbo": Groundswell feature film Trumbo starring Helen Mirren, Bryan Cranston, Diane Lane, and John Goodman will film Sept. 15 through November 6th in New Orleans. Please send resumes to [email protected]
Currently Filming:
"American Horror Story: Freak Show": Fox television series American Horror Story 'Freak Show' is filming July 14 to December in New Orleans. Please send resumes to [email protected]
"NCIS: New Orleans": CBS Studios television series NCIS: New Orleans starring Lucas Black, Scott Bakula, and Paige Turco is filming July 21 in New Orleans. Please send resumes to [email protected]
If you know anyone interested in acting – please share:
[facebook][tweet][digg][stumble][Google]
Comments
comments