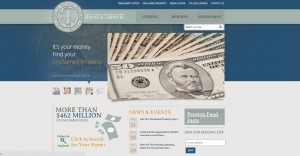 The South Carolina State Treasurer, Curtis Loftis, has just officially announced that South Carolinian's entire database of unclaimed property is now online. He said there is currently $462 million in dormant bank accounts, uncashed checks, unclaimed insurance proceeds, forgotten utility deposits, uncashed dividend checks, and unexchanged shares of stock, and South Carolina residents now have an easy way to find theirs.
The South Carolina General Assembly has now officially dubbed Wednesday, Feb. 18th as Unclaimed Property Day.
Last year before the database was upgraded online, over 27,000 accounts worth $16 million were paid to South Carolina individuals and businesses by the Palmetto Payback unclaimed property staff.
South Carolina residents can now search for unclaimed items online at www.treasurer.sc.gov
Please share the awesomeness; 
Comments
comments