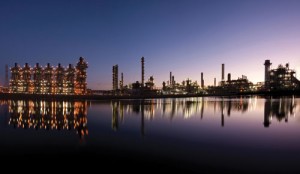 South African chemical company Sasol Ltd.just received its final approval for an $8.1 billion ethane cracker and derivatives facility by Louisiana's Lake Charles.
The state agreed to give Sasol $257 million in incentives including payroll rebates, workforce training and grants. They're also trying to get into the state's industrial tax exemption program, which grants projects 10 years of no property taxes.
It is being called one of the largest foreign direct investments in U.S. history.
The facility will produce 1.5 million tons of ethylene every year. The process involves breaking down the molecules of ethane — which is found in natural gas — to create ethylene, a key ingredient for the petrochemical industry. It's used in products like food packaging, fragrances, detergents and tires.
"Once commissioned, this world-scale petrochemicals complex will roughly triple our chemical production capacity in the United States, enabling Sasol to further strengthen its position in a growing global chemicals market. The U.S. Gulf Coast's robust infrastructure for transporting and storing abundant, low-cost ethane was a key driver in our decision to invest in America." remarked David Constable, the president and CEO of Sasol.
Sasol's complex will also house six chemical manufacturing plans, the company said, and about 90 percent of the cracker's ethylene output will be converted into "a diverse slate of commodity and high-margin specialty chemicals for markets in which Sasol as a strong position."
Sasol plans to spend $800 million on infrastructure improvements and land acquisition "to establish the Lake Charles location as an integrated, multi-asset site that will enable growth for decades to come."
The company has previously announced plans to build a gas-to-liquids facility at the same site in a second phase, beginning in 2016. The plant would convert natural gas into diesel fuel and other liquids, producing 96,000 barrels every day. It is predicted to cost $11 billion to $14 billion and open in 2019. A final investment decision has not been announced for the second phase.
It's being anticipated that the new facility will create at least 1,200 new permanent jobs.
The facility is expected to be fully operational by 2018.
[facebook][tweet][digg][stumble][Google]
[one_third] [/one_third] [one_third] [/one_third] [one_third_last] [/one_third_last]
Comments
comments