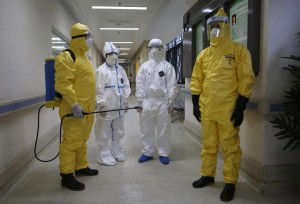 A high security special isolation unit is currently being set up Ebola patients in the Virginia Beach area.
Sentara Princess Anne hospital in Virginia Beach will be receiving patients with Ebola from facilities throughout Virginia and North Carolina.
A special ambulance is also being equipped to provide transportation for Ebola patients and up to 20 employees are being trained and equipped.
Health officials throughout Virginia and North Carolina have been actively monitoring all travelers coming in from the three West African countries affected by the Ebola outbreak.
Screeners are working around the clock for travelers from Guinea, Liberia and Sierra Leone. Those travelers are assessed for Ebola risks and are asked to sign an agreement to take their temperature at least twice a day. Low-risk travelers receive daily phone calls from health care workers, while those at higher risk receive personal visits and are told to stay home.
There are currently 53 travelers who been identified for monitoring.
[facebook][tweet][digg][stumble][Google]
[one_third] [/one_third] [one_third] [/one_third] [one_third_last] [/one_third_last]
Comments
comments