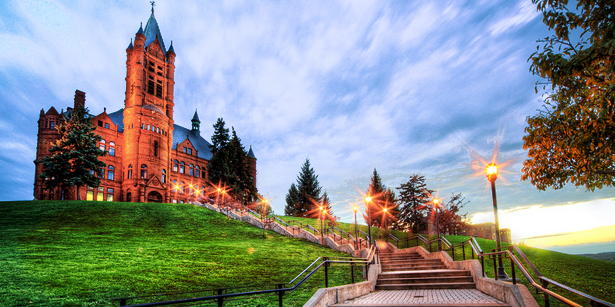 Syracuse has just been crowned America's best college town, at least according to Travel + Leisure magazine.
Our city was praised for its incredible food, activities, shopping, and jobs it offers to the students of Syracuse University, Onondaga Community College, SUNY-ESF, Le Moyne College, and the many other colleges, university extensions, and community colleges. Syracuse was also voted No. 1 for both pizza and hamburgers; No. 2 for both coffee and hipsters; and No. 4 for both food trucks and craft beers in the same publication.
"You're likely to find aforementioned hipsters at Faegan's Pub on Tuesday nights, when patrons earn their name on a plaque after completing a 'tour' of some of the 44 brews on tap. Syracuse also ranked in the top 20 for its historic sites; start that sort of tour at Hanover Square, surrounded by buildings dating back to the Civil War era." the magazine writes.
The rankings were compiled by reviews and submissions from Travel + Leisure Magazine's 'America's Favorite Places survey'.
Here is complete list of America's Best College Towns;
1. Syracuse, NY
2. Lafayette, LA
3. Charlottesville, VA
4. Fort Collins, CO
5. Duluth, MN
6. Saratoga Springs, NY
7. Asheville, NC
8. Flagstaff, AZ
9. San Luis Obispo, CA
10. Boulder, CO
What do you love most about Syracuse? 
[facebook][tweet][digg][stumble][Google]
Comments
comments